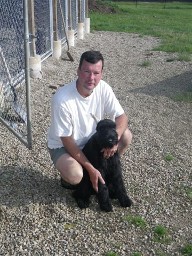 Lindsayleigh's Purchase Agreement
First of all let me thank you for considering my Giant Schnauzers. I have no application or question form for you to fill out. After breeding for over thirty years and selling to people of all walks of life, it is impossible to sort out good owners from not so good ones. My first rights of refusal contract and the fact that most of the time you're going to have to wait at least five months or more for a pup, pretty much gets rid of the impulse buyers. I have sold pups all over North America. I will now go through the details needed to purchase a Giant Schnauzer from my kennel. I don't do anything over the phone. I have no backup to phone calls or messages left on my machine. A written letter will work or you can email me. Its also good to remember that sometimes the wait period can be over a year and pricing of the pup could go up. The total price for the pup will be at the present price and not the time of deposit.
The first way to purchase a pup is to send me a letter, email or come out and visit my family of Giants. At that time you need to leave a $500 deposit for next available puppy. Once you have left a deposit you will be guaranteed a pup from one of my next two litters. When you leave the deposit, it will be dated and that determines your pick. You will be told of the future litters and when to expect your pup. The earlier you leave a deposit the higher on the list you will be. I will not take more then six deposits on a litter. Once I have reached that limit I will tell you that you could be on the very next litter or the one after it. It's considered next available pup. The deposit shows me that you like what you see, you're serious about a pup and you're willing to wait. The deposit can be returned to you at any time up until the litter is born and a pup has been put aside for you. If you cancel out after the pups are born and before they go home you will loose your depsoit. When someone cancells after pups are born and I notifiy the next in line I always get, "what is wrong with the pup" and the next owners are very catious. As far as the gender goes, the higher up the list you are the more you will have to choice from. You will have to give me your choice within one week of the litter being born. You will NOT be able to change your mind. If it should work out that you cannot have the gender of your choice and you want to pass on the litter, you can have your deposit back. You may also move to another litter.
The second way is to send me a letter or email requesting a pup. Give me your name, address, email and phone numbers. At the time I receive your request I will add you to my NO DEPOSIT, list. ThIS list are the people who are interested in a pup but have not or are not willing to put down a deposit. Your request is dated and put in order of receiving it. If someone comes along weeks or months after you have left your NO DEPOSIT and they leave a deposit, they move ahead, DEPOSITS are a priority. I'm in a very fortunate spot to say that most litters are all sold before born, so if your serious you had better leave a deposit. My website will keep you up to date. If I have enough deposit to cover the litter then I will not be calling all the people on my call back list. It will be up to you to call me. It may sound harsh, but the list can get very long and most of the people have made other choices and they don't normally call me. I can spend hours calling people for nothing. Sorry, it's just the way it goes. You're more then welcome to call or email me as often as you want. I have been at this a long time and if you're really serious and you have done your research you will know that good giants are hard to come by. Thank you. Derrick